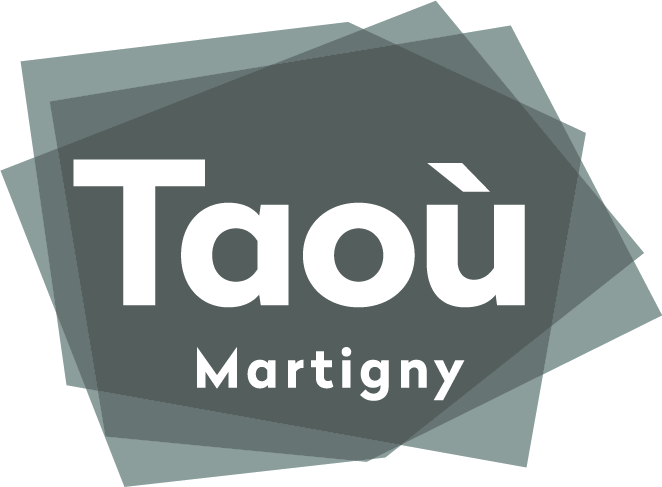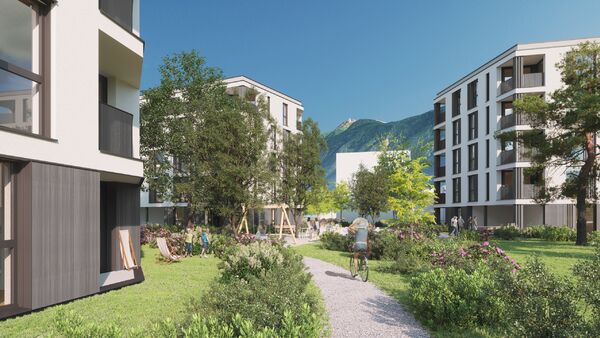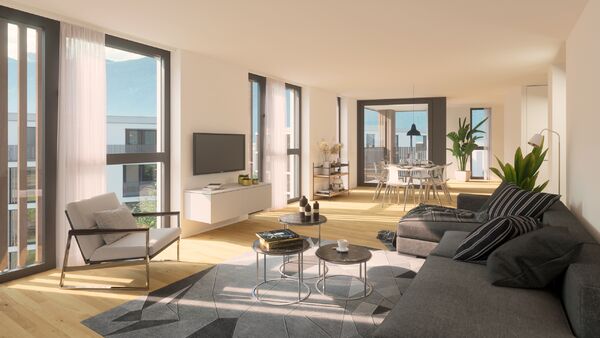 Comfort, durability, aesthetics. Taoù is a real estate project with the Minergie label, in perfect symbiosis with its environment, designed to meet all the needs of its inhabitants with the greatest respect for nature and inspired by it.

Taoù is first of all a set of three buildings on the banks of the Dranse river. Three buildings in the shape of a prism, like rocks that have escaped from the river bed to observe it from its edge. It is also the birth of 65 apartments in PPE, from studios to 5.5 rooms, modern and open to the outside. But above all, it is a visionary development, thought out in the smallest detail to create a gentle, simple and human living environment.

- 3 buildings with a total of 65 apartments
- From studios to 5.5 rooms
- Living areas from 43 to 128 m2

Landscaped outdoor spaces

The Dranse river, a tributary of the Rhône, has an ecosystem that is as fragile as it is exceptional. This riparian environment has largely inspired the magnificent landscaping that surrounds the three buildings of your new neighborhood.
As you move between the buildings, you will come across various play areas for different ages that are ideal for fun, relaxation and gatherings.
At the heart of the three buildings, a central square where all the paths converge is the ideal place for intergenerational meetings or a small party between neighbors.
A single entrance is reserved for cars. The exterior parking lot and the entrance to the underground parking lot are located in the access road. Each parking space will be equipped with a tube to facilitate the installation of a plug to recharge one's electric vehicle.

- Benches, playgrounds and pedestrian access
- Bicycle shelters
- Recharging station on the visitor spaces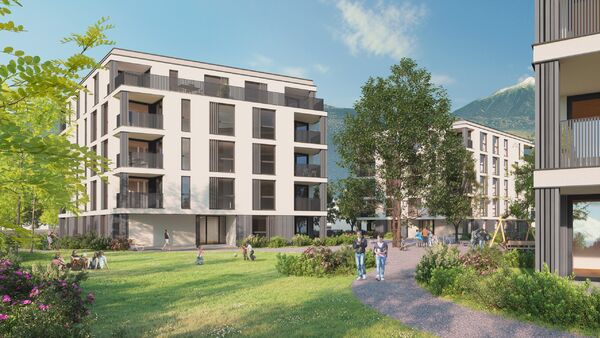 Construction
Quality of life reinvented, for families and all those who dream of combining the attractiveness of urban living with the inspiring beauty of nature.
Each building includes an elevator that leads to the underground garage for access to the parking lot, the cellars and the warehouse. A common laundry room is located on the ground floor of one of the buildings as well as a connected mailbox system for the delivery of your personal packages.
Each apartment includes a fully equipped kitchen, parquet flooring in the living areas and bedrooms. The tiled shower rooms and bathrooms are equipped with a laundry column.

- Minergie certified
- Connected mailboxes

An ecological choice

Opting for a Taoù development home is an ecological choice. Since 1998, the Swiss Minergie label has been the reference in terms of building comfort and energy efficiency. Your new heating system, for example, is connected to the city of Martigny's district heating system and is powered by renewable energy sources. The full-height glazed surfaces on the facade allow the apartments to benefit from passive solar energy and active solar energy is guaranteed through the installation of solar panels on the roof.

Definitely, you choose here a quality of construction taken care of as well on the level of the durability as of the acoustic and the phonic.
Characteristics
Year of construction
2022
Contact for visiting
Mrs. Isabelle BAUWENS